A post-COVID learning world, Part 1 😷 Transcend Newsletter XXIV
The new ways in which individuals will learn and work after the virus. Plus, a new Transcend Fellowship!
We hope all of our readers are staying safe and strong.
We have some exciting updates: in studying how the world of learning and work will be shaped by the current crisis, we've realized most of our theses will be greatly accelerated and changed: we are bringing to you our thinking in a two-part analysis (followed by next week's newsletter) and are also announcing a new Transcend Fellowship cohort to support founders building this future. All of this with a new look for the Transcend brand!

Learn more here and apply by April 24th!
Do you know anyone interested in the future of learning and work? Share the newsletter with them and help us grow together.

What is it?
The economic and public health crises caused by the spread of the COVID-19 coronavirus has affected the world of education in three main ways: it's had a direct macroeconomic effect on multiple fronts, it's accelerated a behavior change towards new education methods, and it has contributed to speeding up the adoption of emerging education models.
Why should we care?
The effects of this crisis are very real already. So far, nearly half the US workforce has already lost income, 1.5B students around the world are out of school, and a large percentage of them are not able to continue their education online, particularly outside of high-income economies.
And there is still a lot of uncertainty given the still unknown length of the social distancing policies, the results of these policies on the economy and the effect of the virus on middle and lower-income countries that have both younger populations but a lower ability to enforce containment and public healthcare capabilities.
The future of learning post-COVID (Part 1)
Over this week and next, we'll dive deeper into our theses for a post-COVID learning world. Today we'll look at the first two of four: the countercyclical question for higher education, and the experiences with virtual classrooms in schools.
1. The counter-cyclical question
Because most of the professional alternatives for individuals disappear in a recession, universities tend to see higher enrollment during economic crises (it's been long observed as a counter-cyclical economic phenomenon) however, this time around the recession is the result of a public health crisis that may affect higher education enrollment greatly, and in the opposite direction it did in 2008.
Why would it not be countercyclical now? The main factor is the disruption of the in-person student experience, as the idea of an online-first college will lose much of its former appeal as a "bundled" set of services (consisting of academics, but also experiences on campus, student activities or the residences, as Ryan Craig defined it in College, Disrupted): many of these will be lost, and we shall see how many schools get to open their doors in September. For now, 54% of US colleges are promoting their virtual campus tours.
This countercyclical phenomenon has historically been supported by greater government spending to incentivize that household investment into education (e.g. Pell Grants in the US), which may also change this time around given the large public spending budgets for public health interventions, and the new type of education investments that these grants can be applied to.
This will heavily affect international student flows, which you can track here, which represent a central part of many universities' revenue (particularly in the US, UK and international networks of universities). One would also expect the nations that send millions of students abroad to invest in their own national programs (particularly in East Asia, MENA countries and South Asia) for those student elites.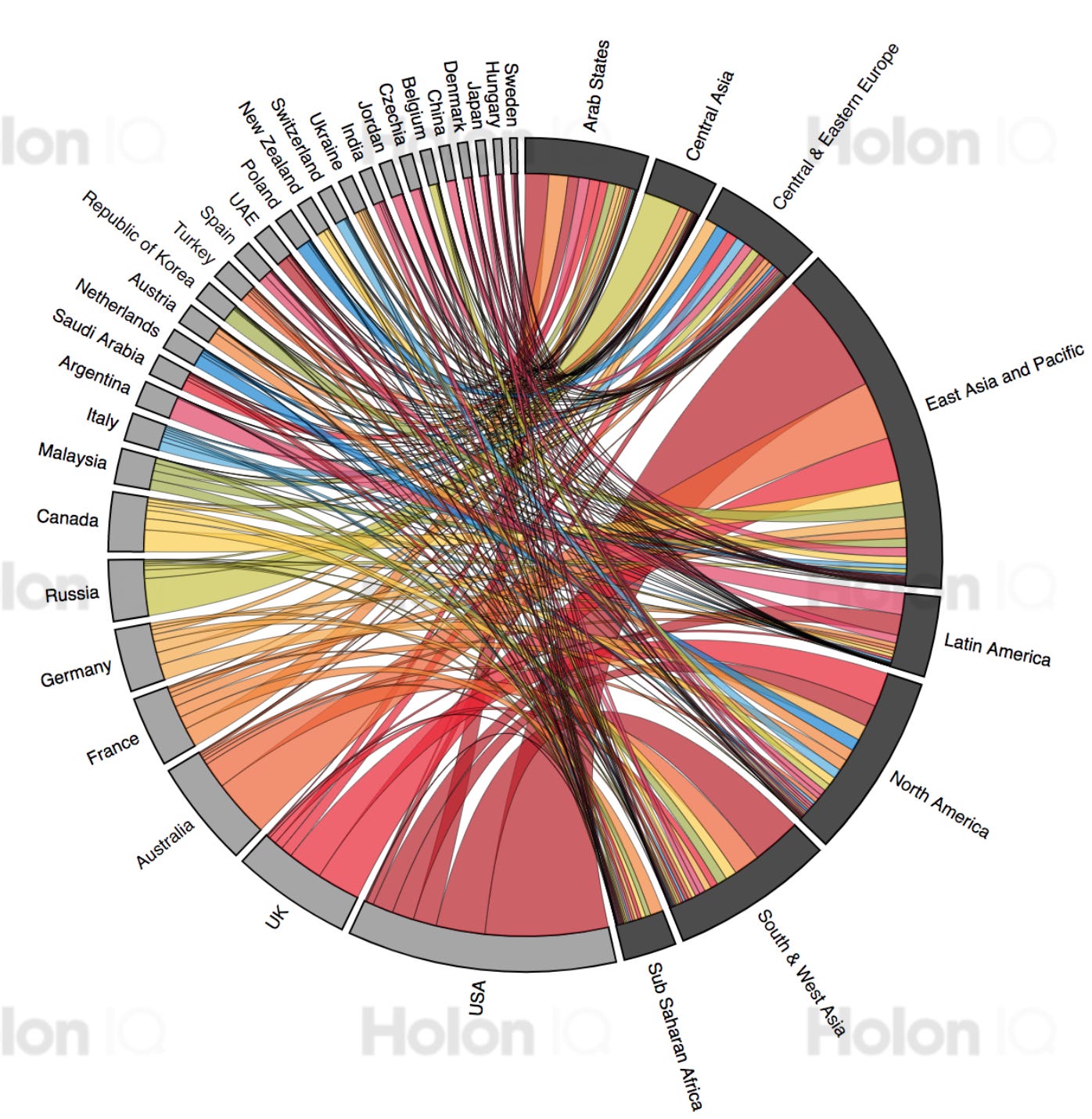 Lastly, there's also an argument to be made about how hiring will affect universities, as on-campus interviews and career services are completely wiped out from the university experience, and the labor market shrinks dramatically. In the past recession, the increase in the supply of qualified labor led to employers simply pushing up the bar for job candidates, requiring a degree almost as a starter for most jobs: in high-income economies that are already seeing low placement rates among university students and high underemployment, this may push students to more vocational learning pathways such as bootcamps or apprenticeships.
2. The virtual classroom experience
School closures have been dramatic for many countries' social fabric and educational outcomes, particularly in middle and low-income countries where only 26% of students can access online learning for their schools' curriculum.
Let's stop the narrative that online learning has been amazing, and face the reality that students are hating their virtual experience. Per the Niche survey (US):
72% of high school students did not find online classes as effective as in-person, only 11% did find them as effective

Only 8% of students are more interested in online education, 77% are not

87% of students in their last year of high school are more concerned about being able to pay for their education
And it doesn't get much better at the college level.
66% of students did not find online classes as effective as in-person, 15% did find them as effective

75% reported that they have sufficient access to technology or Internet access to succeed

92% of students are more concerned about being able to pay for their education

25% are more likely to consider online education in the future, 56% disagree

The main takeaway from this, based on conversations with school teachers, university professors and students, is that we still don't know what aspects of the education experience belong online and which should still be done in person.
This "black swan" event will accelerate the urgency with which we explore the question, but it won't take instruction online overnight or give us all the answers.
Next week we'll dive into new models that are emerging out of this crisis and the types of new roles we'll see at education organizations. Keep your eyes peeled for more updates soon!
What do you think? We'd love to get your thoughts: please leave a comment or reply to this email!

👩‍🏫Join us tomorrow as we learn about how to conduct engaging virtual classes form one of Minerva's most amazing professors! Join for our Zoom chat and Q&A.
🎓Mario Barosevcic from Emerge shared the first part of his analysis on the state of "challenger universities", the opportunities and outlook for the coming years.
📹Alberto spoke at a Skoll World Forum online discussion about the future of learning in a post-COVID world, along with our Transcend Fellows Aurelien and Angela - check out the video recording of the event!
☎️EmpowerWork continues to support workers, now more than ever: they just released a report looking at how manager relationships contribute to the gender pay gap.
👓The Emerging Leaders Program is a full-scholarship, free program for full-time college students who are looking to level up this summer and learn the real skills needed for when they join the working world.
📻Rising Academies just launched a free distance learning solution to reach 10M out-of-school children during the crisis: designed for organizations and governments after working in Sierra Leone and Liberia, where they've had outstanding results broadcasting radio lessons, they have extended the partnership to The Gambia, Zambia, Nigeria & Uganda. Get in touch if you are interested or want to join this collaboration.

Fill out this form if you are looking to hire or get hired, and check out our job board for updated openings.
---
Thanks for reading another week! For any feedback, requests or ideas, reply to this email.
Please take a minute to share if you found this newsletter interesting!
Alberto(alberto@transcend-network.com) & Michael (michael@transcend-network.com)
P.S. The current rebranding project would not have been possible without the unconditional support of Pilar and Fiona, some of the best minds for all things design and branding.