India's Unlikely Edtech Giant 🇮🇳 Transcend Newsletter #34
How BYJU's became the world's largest edtech startup and the future of Indian education
Hey, Alberto here! Welcome to the Transcend Newsletter.
The Transcend Newsletter explores the future of learning and the future of work, and the founders building it around the world.
I also wanted to share a note with you: we are 106 subscribers away from reaching 1,000 readers. Getting to that milestone will be a very special moment for me!
Can you help us become 1,000-strong by the next newsletter by sharing it with friends or on social media? 🤗

India's Unlikely Edtech Giant 🇮🇳
The largest edtech startup in the world is not based in Silicon Valley, London or Beijing.
Instead, that startup is based in Bangalore, India, and it's called BYJU's. In this post, I'll explain what BYJU's does, how it scaled domestically, and what it means for the future of education in India!
BYJU's Story
BYJU's was founded in 2011 by educator/public speaker star Byju Raveendran.
It offers math and science modules for K-12 students in India through an app containing video content and now also virtual tutoring.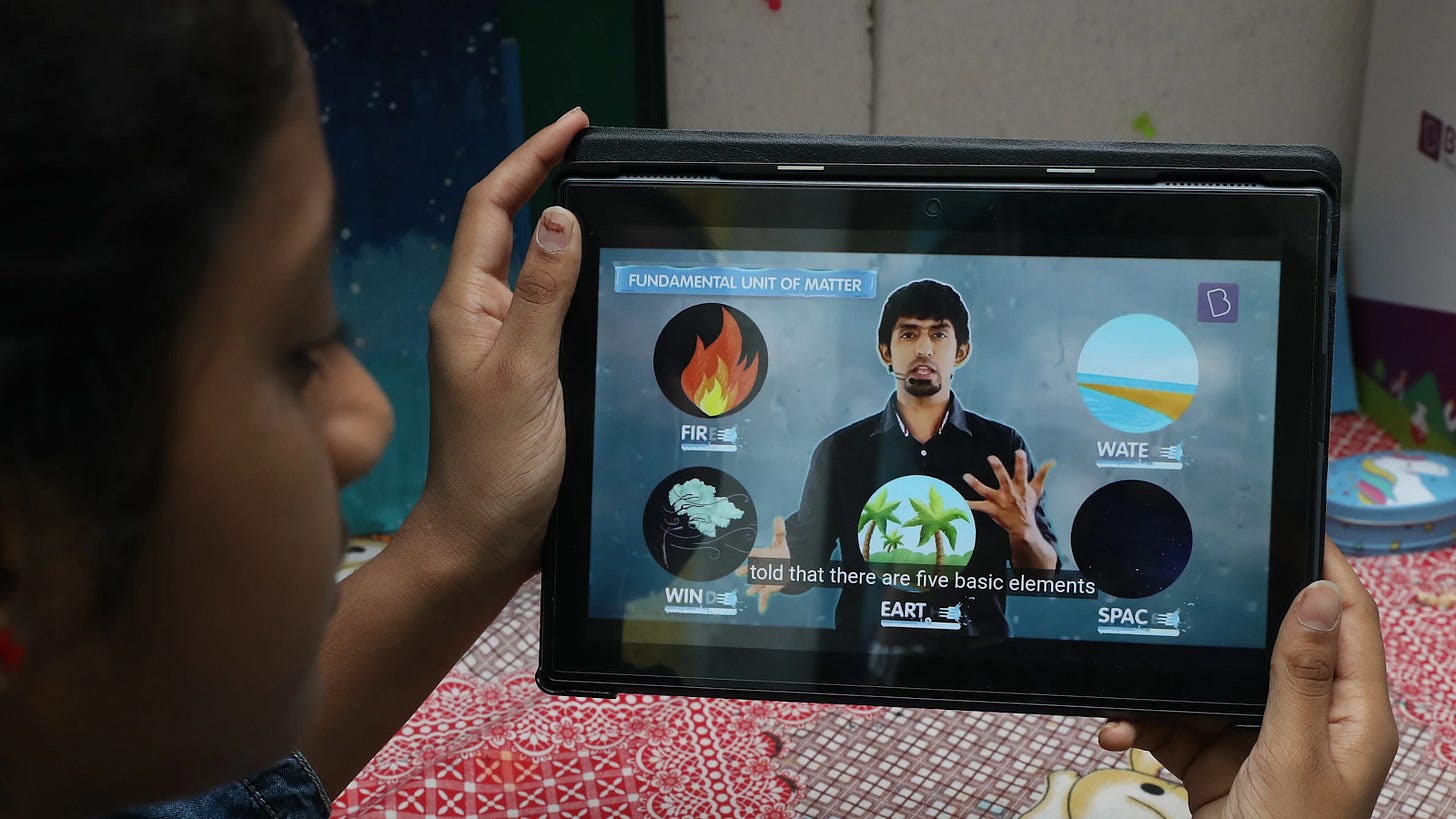 BYJU's best known for its signature educational videos for kids, and its growth over the last decade has been nothing short of incredible – it has gained over 60 million users around India (roughly the population of Italy!), with 71 minutes of daily usage for active students, and user retention that hovers around 85% yearly. And it's profitable, unlike most other fast-growing unicorns. 
You can imagine investors salivating over this company: BYJU's has raised over $2 billion from international investors, the last round this year placing a $10.8B valuation on the company. This makes it by far the largest edtech startup in the world.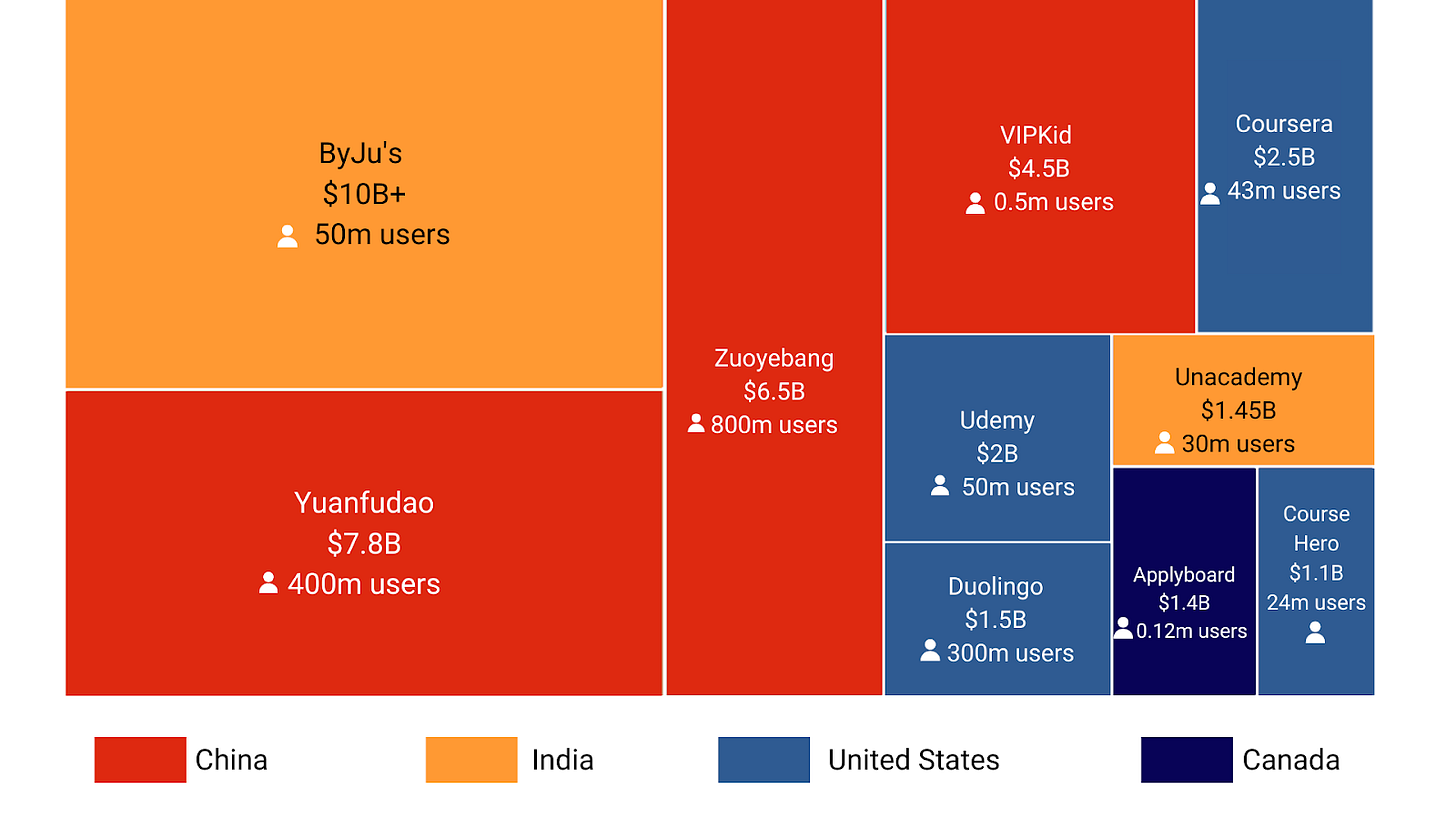 Now you know what BYJU's does – but to understand its success, we need to understand the Indian education system first.
India and BYJU's
India is an unlikely place to start the largest edtech startup in the world. 
It's particularly unlikely for a company that serves its domestic market, where consumer spending is limited (Indian ranked 143rd in GDP per capita globally).
At a first glance, one would expect education spending to be modest: India ranked 74th out of 75 countries in the PISA ranking (before it stopped participating in the test in 2009), finding that 50% of its fifth graders cannot read second-grade texts. Nationally, India only spends about 3.5% of its GDP on education, well below the 5% global average. 
Government spending on education is underwhelming, but Indian families invest heavily in their kids' education. 
Indian households spend between 9 and 18% of their income on education, and that spending is sustained across regions and income brackets. For reference, in Spain that investment represents only 1% of household income.
A gap filled by BYJU's
So Indian families care a lot about their kids' education.
But that commitment isn't satisfied by the poor performance of the traditional education system, where 75% of third-grade rural students (and 50% of fifth-grade students) could not solve a two-digit subtraction problem. 
To address this gap, families traditionally looked to extra tutoring and private schools, which are costly and inaccessible, leaving many families unserved.
BYJU's growth came from its promise to support students at an affordable price for Indian families of all backgrounds and regions.
And there are a lot of school-age students to sell the product to: their 60M users are only a small fraction of the 270M K-12 students in India.
BYJU's leveraged that massive interest from families by making the content really easy to access: their product is mobile/tablet first (can be accessed from any affordable smartphone, which has seen rapid adoption in India) and affordable (compared to private tutoring, through its freemium model). 
Lastly, it's become a basic need for families during the COVID crisis. Since March, Byju's launched live virtual tutoring, tripled its revenue, and added 13M users in March and April alone.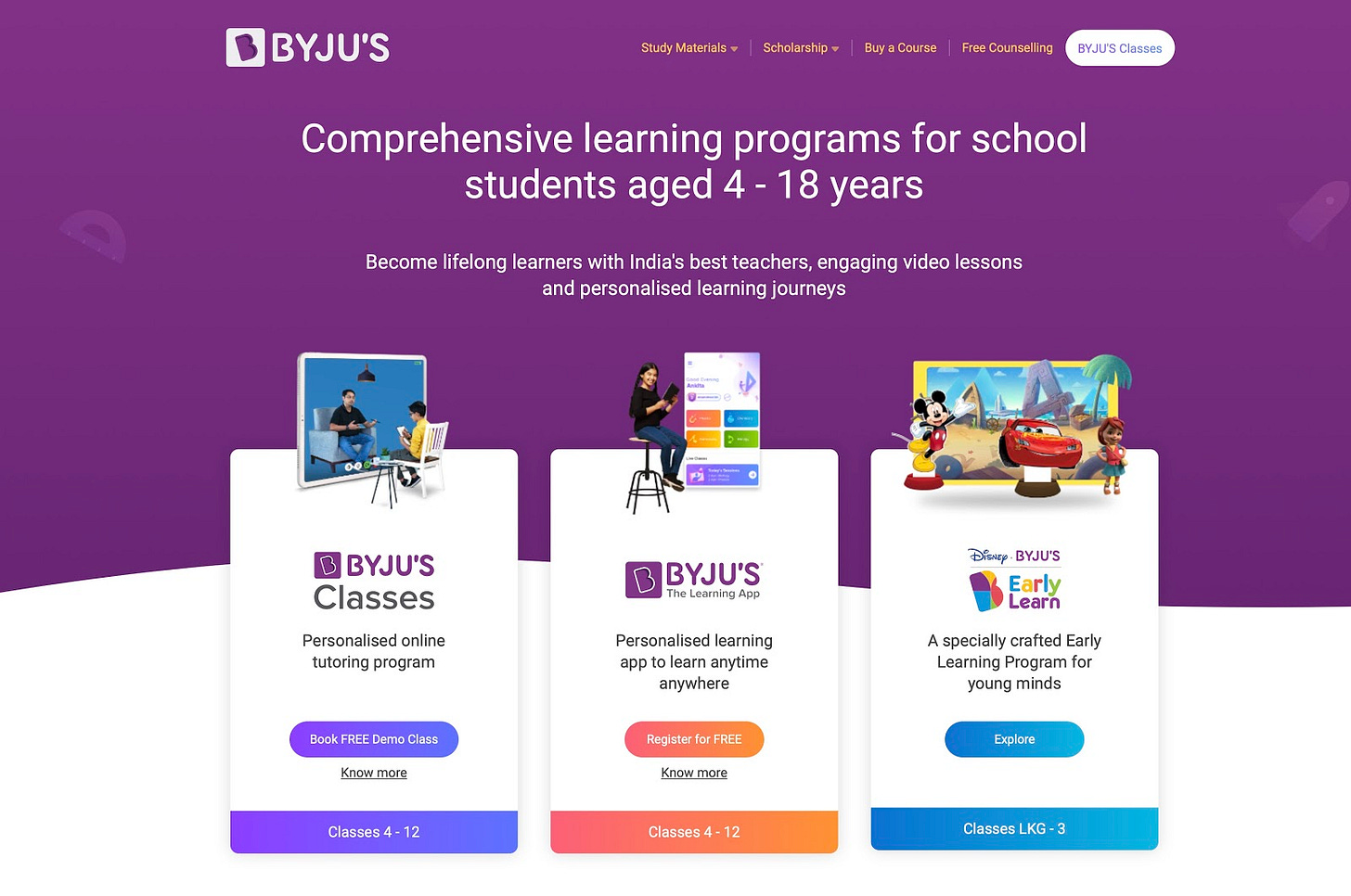 Too much to ask?
Families across India trust BYJU's to improve their kids' grades and help them access better academic opportunities. But it's not all rosy: some families have grown skeptical of its promises for students.
Some consider them unrealistic for primary and secondary school students. Its sales team knows how demanding Indian families are, and looks to sell them on long-term subscriptions (often 7-year contracts) to improve the students' grades or teach them technical skills at an early age. This practice has been heavily criticized by Pan-Asian tech publication The Ken, which investigated these contracts, the use of third-party credit providers to pay in installments, and the silencing of critical responses to these accusations. 
Others don't think the product can deliver on its personalization and learning promises: since the content is fully focused on the national curriculum and tests, there can only be so much personalization for the students.
This causes some frustration among parents, who carry over their expectations from their private tutoring and school experiences:
The future of BYJU's
The next few years for BYJU's will likely involve growing its market share in India (penetrating the Indian market more deeply and adding more languages), growing its product offering (virtual tutoring product launched during the pandemic, content partnerships with Disney) and others) and perhaps look to global expansion soon.
BYJU's success should also contribute to the market opportunities, by increasing investor interest in Indian edtech and creating more exit options for startups. BYJU's has already made acquisitions like WhiteHat Jr. for $300 million, and is eyeing more to use all the cash it has raised from investors.
The future of learning in India
At the core of BYJU's success is a national model of education that trusts students and households to invest in education, often over the state.
This model is a risky bet, and most top-ranked countries in education outcomes have taken the opposite path. India will be taking the PISA test in 2021, which should help us understand how effective this model has been in the last decade.
Whether you think BYJU's is empowering students and their families or hurting them, I believe its impact on the future of learning in India will be positive: those 60M students that use the app will be looking for more and better online learning experiences in the future, and that should put Indian students ahead of the rest of the world in adopting blended learning technologies.
The future of learning in India is bright!
What did you think? We want to learn more about Indian startup building the future of learning - reply to this email if you are a founder or know of other projects!


news roundup around the future of learning and work
🎓 Universities are increasingly offering experiential learning opportunities to students to grow outside of the classroom – Encoura analyzed how the space is growing and Emerge Education shared in their report how universities are leveraging it as an alternative revenue stream.
🇪🇸 ElReferente mapped the Spanish edtech startup ecosystem across different categories and sectors.
📱Junto (W20 Fellowship) launched their short interactive lessons to help you do your best work last week. Much more fun than reading a book!
🚨We just announced the 20-strong cohort that will join our Fall 2020 Transcend Fellowship – check out our new Fellows who are joining from 14 countries!
---

exciting job opportunities we want to share with you!
---
Many thanks to Trang Doan for the visualization and ideas, Kyla Scanlon, Rob Cobb, Drew Stegmaier, and Compound Writing for the feedback and ideas!
Thanks for reading another week! If you enjoyed this read, can you tell us what we can do better or what you liked?