Discover more from Transcend Newsletter
We explore the future of education and work, and the founders building it around the world
Over 6,000 subscribers
The Upskilling Marketplace 🛒 Transcend Newsletter XXIX
Why we need an Airbnb for skills learning, and how to build it.
The Transcend Newsletter analyzes trends shaping the future of learning and work, and the founders building it around the world.
This week, we look at the fundamental shift from a degree-based education system to one focused on short-term training for skills, and how an upskilling marketplace could train millions for that future of work.
Do you have a friend that loves learning and may find this newsletter interesting? Share this newsletter with them and subscribe!
The Upskilling Marketplace
The world of work is entering a revolution. An upskilling revolution. 
Our current education system was built on the premise that a student could absorb the skills they needed in 2-4 years, and apply those skills for the rest of their lives. In this traditional model, the main unit of success is the certificate, which typically takes the form of a university degree or vocational certificate. 
But that's not the world we live in anymore:
As technology enters the world of work, it speeds up the rate of change across products, services, and operations.

This faster change requires that employees learn new skills faster, in order to best perform their jobs.  

Employees need more frequent and novel skills training 
In this upskilling model, the main unit of success is the skill, not the degree. The upskilling model is a response to this new world of work, where the frequency of training is multiplied, but the duration is shortened as the work keeps changing every day.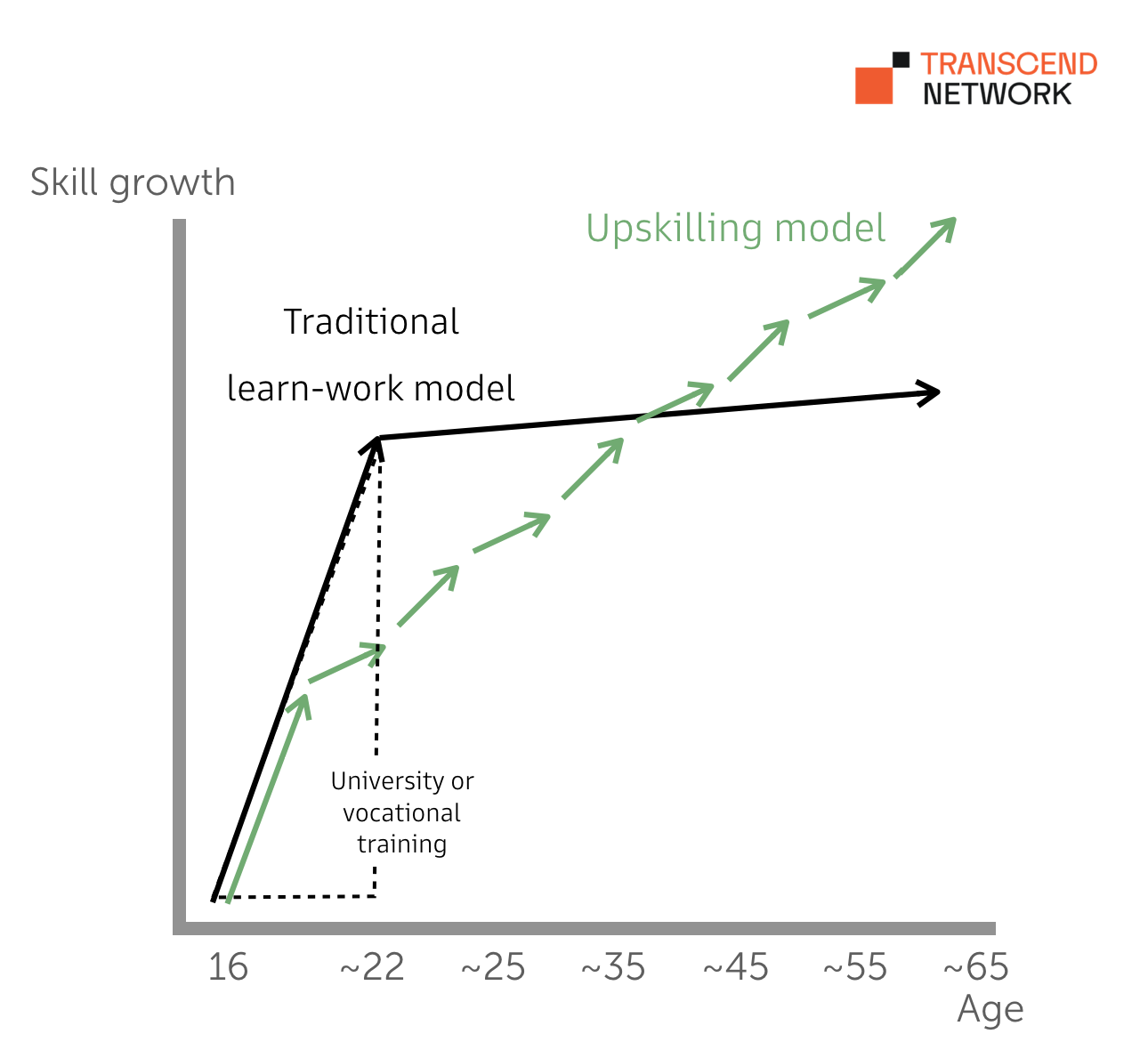 This has first impacted the technology and high-skill service industries, but it's now starting to impact sectors with smaller technology adoption: in the next five years, 54% of the global workforce will need to upskill significantly, as more and more skills become obsolete. 
And yet, with all this change, it's still surprising to me how little work is being done to prepare for this looming revolution around the way we work and learn. The lack of a true marketplace to upskill millions of workers for the jobs of the future is a testament to this unpreparedness.
The AirBnb for skills
An upskilling marketplace would surface relevant upskilling programs for each employee, given their potential career pathways, their interests, and abilities. Imagine a Udemy, but instead of just offering online courses, it offers 6-month programs to upskill while you work, for relevant skills you'll need to advance in your career. 
Let's take Jo, a social media analyst at BigCo. She's been at her position for two years and doesn't really feel like she's growing at her role anymore. 
Given her previous experience, skills assessment results, and the type of work BigCo does, an upskilling marketplace could help her find the most relevant short-term programs to develop her technical chops to become a Growth Marketer (she may need to learn some programming and measuring ad spending), which could double her pay! 

Since employers are typically the ones financing upskilling programs, this platform would function as a B2B marketplace. In this case, BigCo has a budget set aside for Jo to spend in her training, and it would often cover all the costs of the programs.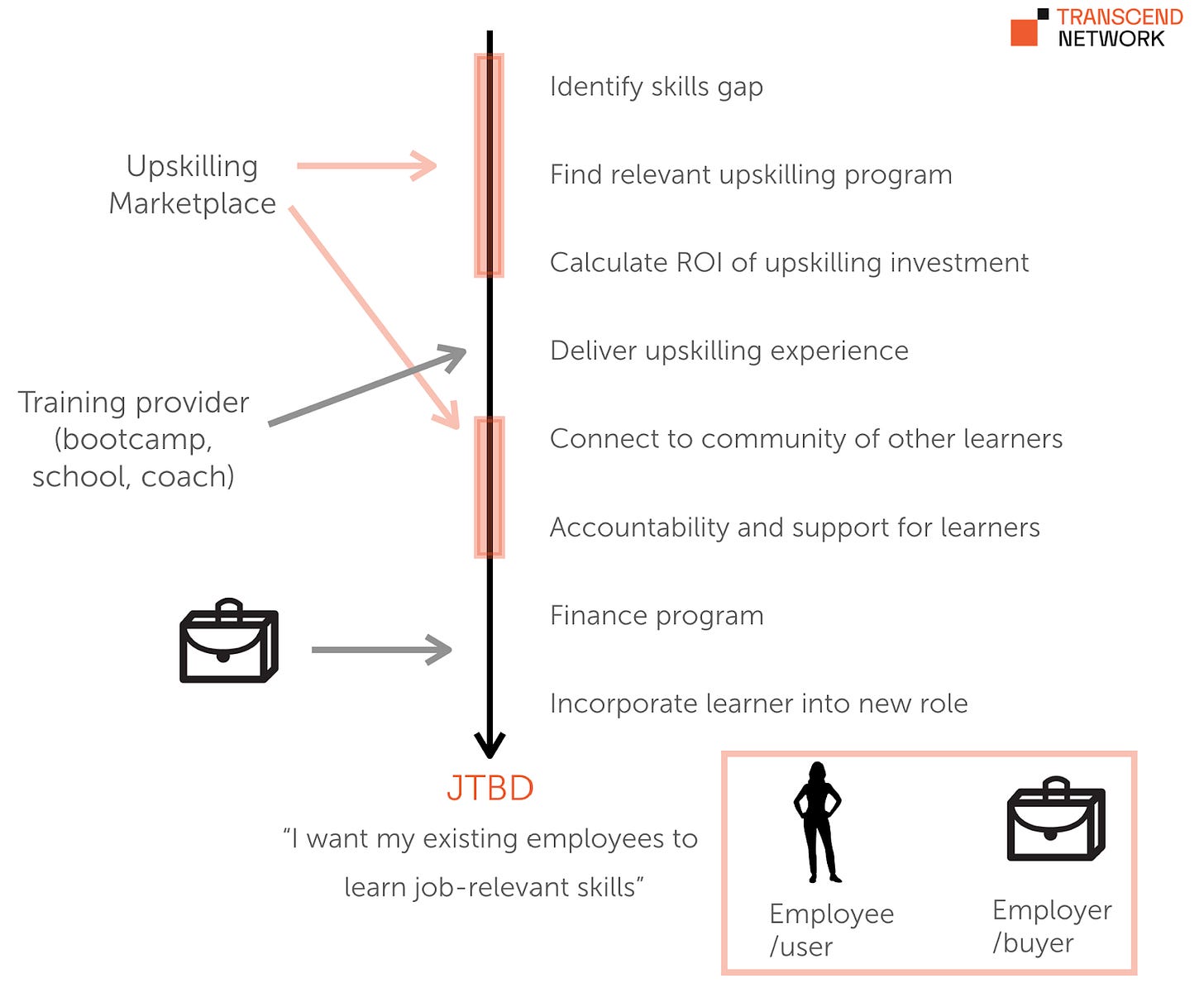 BigCo is actually saving money in the long-term by investing in Jo! Since hiring a growth marketer would likely cost around $4-5K, this marketplace could offer an ROI calculator tool for employers to better understand the return of their investment in the different types of upskilling programs. 
Supply and Demand
Every marketplace has a supply and demand of a product, on top of some key services the marketplace provides.  
Supply in the marketplace
For the marketplace model to work, the supply-side (upskilling programs) should benefit from aggregation of their offering in one platform, in the same way owners of spare rooms benefitted from Airbnb aggregating them all on their site.
Today, most upskilling options are fully independent bootcamps who invest in their own brand and moat. They likely wouldn't want to be aggregated in a marketplace, and would rather go out and find their own students/customers. 
However, it's easier than ever to build a course, with tons of emerging tools for course-building and open-source curricula. I can see hundreds of upskilling programs pop up (small companies, individual creators, some short university programs, some bootcamps, etc.) to serve the demand in that marketplace. 
Demand in the marketplace 
The demand side would be made up of the users (the employees) and the buyers (Learning & Development or HR at the employer companies). A marketplace solution could solve one of the biggest problems around learning at work: the ultimate decision-maker when it comes to using an upskilling program is not the actual student, but the L&D department at the company. 
The marketplace itself could provide complementary elements like the student community, the student support, or the ROI calculator for employers.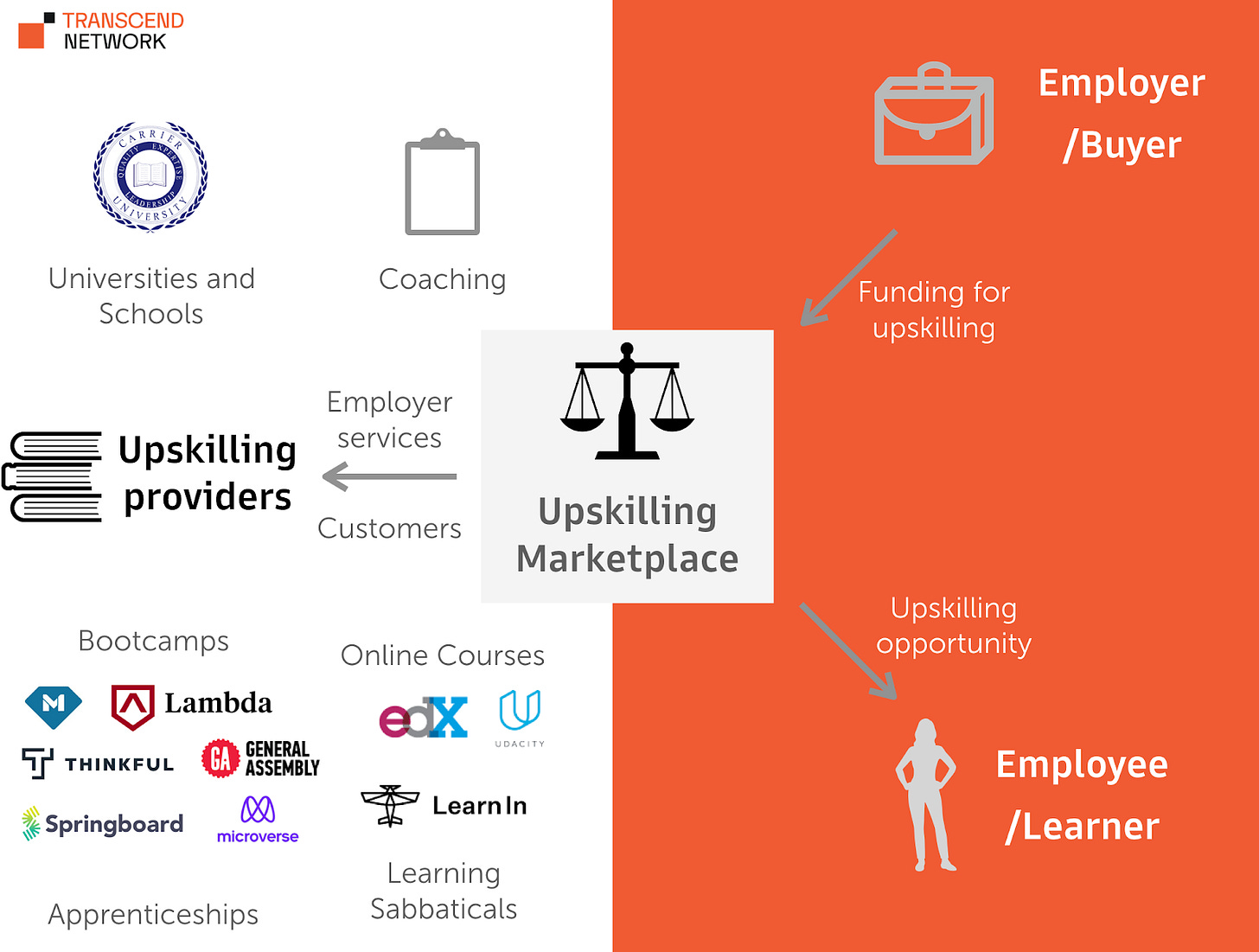 The Challenges
For this upskilling marketplace to succeed, I see 5 main challenges they'd need to overcome:
The Financing Question: employers don't want their employees to leave as soon as they finish their training, and employee tenure is at an all-time low! These are significant barriers to upskilling investment. It could through financing innovations that either share the financing burden of the programs with future employers, with local governments or with the student.

Retention > Upskilling: employers are often more interested in increasing employee retention (over learning), so they place employees in long-term programs (such as college-as-a-benefit companies Guild, InStride).

User ≠ Buyer: the ultimate decision-maker when it comes to buying an upskilling product or service is the L&D department, not the actual students. This leads to messy incentives and terribly ugly products (as we reflected on this a year ago!). 

Supply aggregation: the barriers to developing upskilling programs are lower than ever, which will lead to a more abundant and fragmented supplier market. 

The "truck-driver-to-coders" narrative: many equate upskilling to learning to code (I call this the "truck-driver-to-coders" narrative): there are many non-technical professions that will require massive upskilling and have few programs to offer that training today. 
Who's building the future of upskilling?
There are a few exciting projects that we should highlight in this space:
🎓Guild Education and InStride - marketplaces for colleges and employers using learning benefits (which were largely unused previously).
💼ExecOnline - marketplace for leadership development, matching executives to short-term projects developed by business schools. 
💪Career Karma - sitting between the bootcamps and the student community, they can provide the community and accountability students need.
📚LearnIn - "learning sabbaticals" for employees that are matched with training providers, co-funded by employers. 
📊Strive - not a marketplace, but it brings leadership development coaches into their programs for employers (could be replicated in a marketplace) 
💻MOOCs platforms (Udacity, Coursera, Udemy, LinkedIn Learning) could eventually build a marketplace here, although they usually focus on online courses they can build themselves or collaborate with experts. 
Still lots of work to be done in this space – if you are building something here, hit reply as we are supporting founders in this space at Transcend Network!
What did you think? Please leave a comment or reply to this email with you thoughts!

🔧Middle skills jobs will account for half of the employment opportunities created in the next four years, and there's a massive gap in the market for training and employment, as reported by Taylor Stockton and Reach Capital
🔑Founder Summit is a three-day virtual conference organized by Spero Ventures that will bring leaders like Meg Whitman of Quibi, Fred Wilson of USV, or Rahul Vohra of Superhuman. Reply to this email if you are interested in attending!
🎥Animated short film El Empleo is a fascinating and creative perspective on work, the role of humans and machines in it, and equality.
👭The ecosystem of community tools has grown tremendously in the last five years – here's an overview of the ecosystem from the Commsor team.
📈MOOCs have seen a 2.5X increase in traffic since the beginning of the pandemic, signaling some new opportunities for technology to address education gaps globally.

---
Thanks for reading another week! How can we make the newsletter more relevant for you?
Thanks to Stew Fortier, Jake Schaeffer, Dan Hunt, Bhaumik Patel, Brandon Lee, Dru Riley, and the Compound Writing community for all the feedback for this piece!