Discover more from Transcend Newsletter
We explore the future of education and work, and the founders building it around the world
Over 6,000 subscribers
Rethinking management training 👔 Transcend Newsletter #30
An industry 50x bigger than bootcamps that is quickly being reinvented post-COVID.
Welcome to another week of the Transcend Newsletter, written by Alberto Arenaza. Good to be back after a week off in the mountains of Spain!
The Transcend Newsletter analyzes the future of learning and the future of work, and the founders who are building it around the world.
If you enjoy this newsletter, the best way to support us is to share it with your friends!
---
Rethinking management training
There is a sector in the learning space that is 50x bigger than all bootcamps combined. It brought in more revenue than Uber, Instagram and Airbnb *combined*, but got a fraction of the attention.
What on earth could it be?
Management training is likely the biggest industry you've never thought about, a $24b industry that's finally seeing some changes in the light of COVID-19. Let's explore this space!
What is management training?
Management training represents a small fraction of the $360B wider training industry, but at $24B, it brought in more revenue than Instagram, Uber, and Airbnb combined last year.
We break down management training into 5 categories:
Leadership development: training for company executives (estimated $14B market combined with manager training).

Manager training: training for managers of all levels below executives.

Training services/consulting: consulting services to implement training programs at companies, done by more traditional HR consulting companies, usually without technology (estimated $6B market).

Coaching: professional support by coaches (estimated $3B market).

Executive education programs at business schools: leadership development programs done by business schools (estimated $1B market).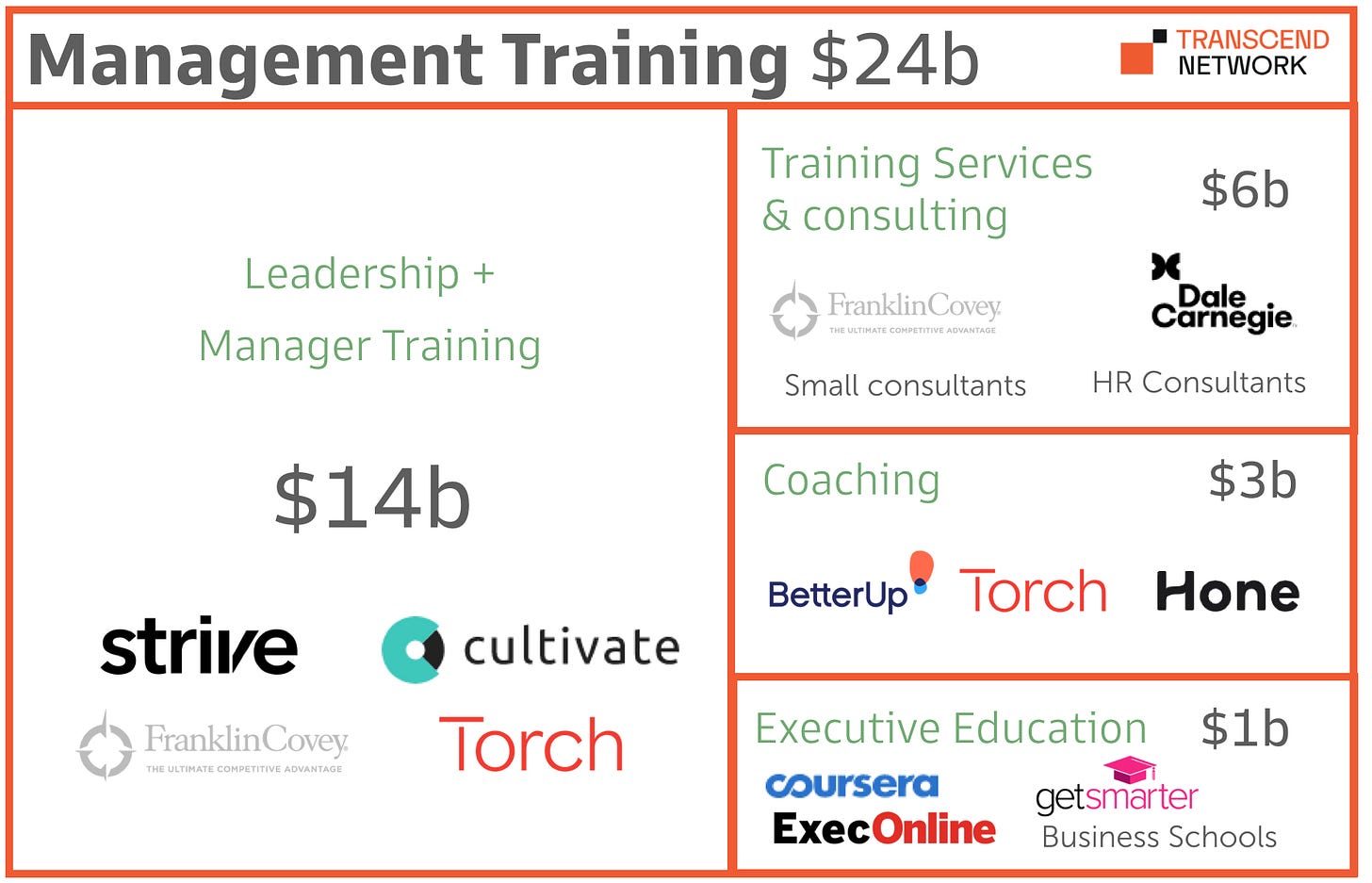 Why is this market so big? Training better managers is likely the highest ROI decision a company can make: a well-known Gallup study found that managers accounted for 70% of the variance in employee engagement.
And yet, the management training industry is often overlooked!
The industry you probably never thought about
I'd argue there are two reasons why management training still flies under the radar for the general public. 
First, most employees never experience management training, to begin with: most only experience lightweight learning content and platforms that are more scalable and affordable.
Secondly, there aren't clear market leaders that act as the face of the industry.  Instead, there's a long tail of consultants and small organizations thriving in local markets. Franklin Covey or Dale Carnegie are $100M-revenue enterprises that likely don't sound too familiar to the average reader of this newsletter. 
A selective user base and a fragmented market have made management training an opaque industry with little incentives to innovate. 

Only about 20% of companies open up their leadership programs to any employee
Until earlier this year, in-person training programs for executives looked pretty similar to what they looked like twenty years ago: training sessions for company executives delivered by a consultant in a hotel room or retreat venue.
But it all changed in the last six months.
As the in-person training programs couldn't be completed this year, many training consultants' revenue dropped to zero overnight: some managed to take their training online, but with little preparation or experience. It's been a difficult time for many of these companies, but it's also accelerated the transition to more online and innovative training.
How startups are rethinking management training
Startups are taking 5 directions to disrupt the traditional models of in-person training:
💻1. Designing online-first or blended training experiences
💳2. Moving to subscription models over consulting or training fees
📦3. Bundling training and coaching with content
🏫4. Taking on the business schools
🛒5. The Marketplace approach
Change is finally coming to management training.
A change that can make learning more inclusive (through lower costs and more online access), less isolated (by connecting it to other learning resources and content), and more relevant to the managers and employees (through updated curricula).
If you are building or exploring this space, hit reply as we are supporting founders in this space at Transcend Network!
What did you think? Please leave a comment or reply to this email with you thoughts!

🏫The US higher education bundle is at greater risk than ever before, especially as new data shows the increasing gap between higher education and employer-ready skills.
☀️We are approaching a new era in online learning, one where courses start with the community of students, and where creators drive these communities forward.
👭Makelane is a community for women building ecommerce brands, a learning community model we are excited about! Apply on their website to join their waitlist.
🎓Minerva announced its new Minerva Baccalaureate, in partnership with Laurel Springs, to provide their curriculum, pedagogy and college credits for students.
📈Wes from Align (and Transcend Fellow!) is sending early access invites for the "Stripe for ISAs". Reply to this newsletter if you want to get in touch!
💻Remote teams! We want to hear from you – access our latest Founder Snapshot on the state of remote work by answering these 5 simple questions.

---
Many thanks to Will Houghteling, Nick, Joel, Dan, Stew and Josh from the Compound Writing community for the feedback and ideas!
Thanks for reading another week! How can we make the newsletter more relevant for you?