Discover more from Transcend Newsletter
We explore the future of education and work, and the founders building it around the world
Over 6,000 subscribers
The Greatest Shock 🌋Transcend Newsletter #31
COVID-19 has impacted 94% of the global student population and may cost this generation $10 trillion in lost earnings. Here's how the world's reacting.
Hey! Alberto here, welcome to another week of the Transcend Newsletter.
The Transcend Newsletter explores the future of learning and the future of work, and the founders who are building it around the world.
If you enjoyed reading this, the best way to support us is to share it with your friends!
---
The Greatest Shock
The Sustainable Development Goals (SDGs) are a big deal – they represent the first universal commitment to making the world a better place by 2030.
This ambitious set of goals was ratified by all 193 United Nations member states in 2015, and they set out to address the most pressing global issues, ranging from poverty to equal rights for women and minorities, and quality education for all.
But just a third into their 15-year journey, the SDGs have encountered the greatest shock to global development in recent history.
The impact on education globally
SDG #4 is focused on providing quality education to everyone, and it has been very badly hit by the coronavirus pandemic. 
School closures have affected 1.6 billion students, ( 94% of the student population), which is putting students at an increased risk of dropping out and experiencing "learning loss" (forgetting and not learning new content during the months of inactivity).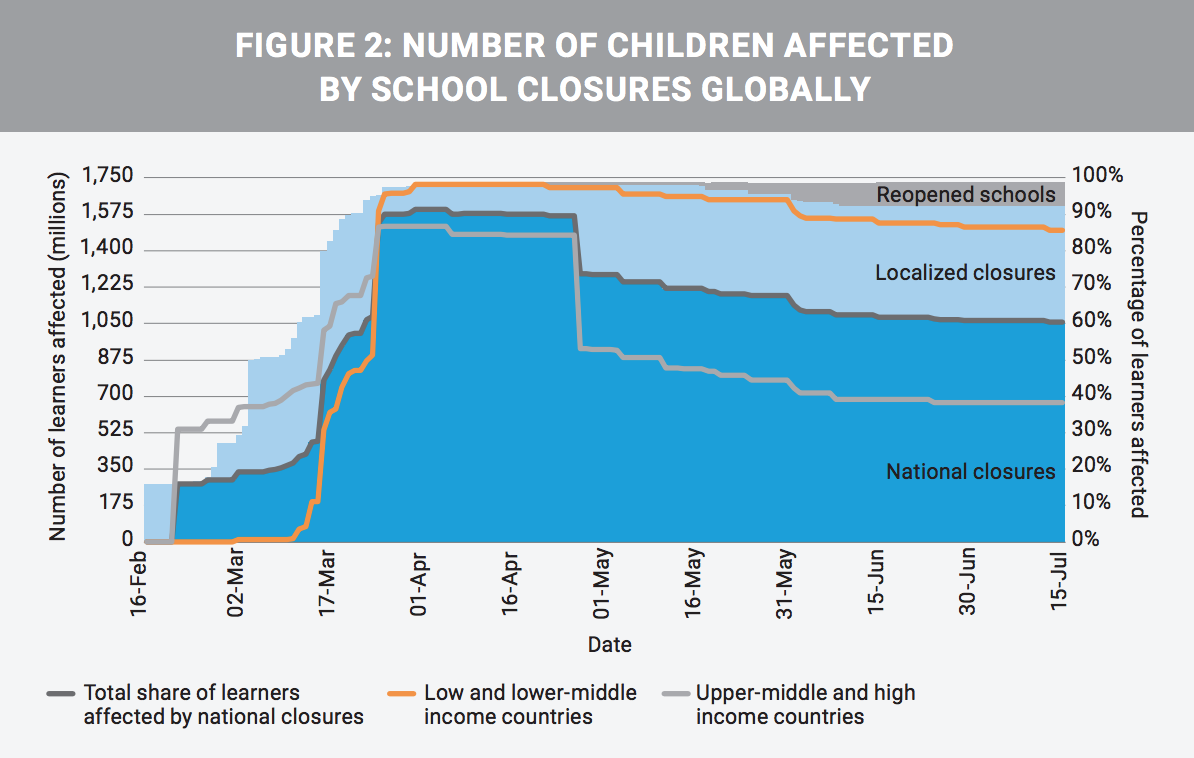 The economic implications are huge: students could experience $10 trillion in potential lost earnings over their lifetimes, or $16,000 per student, as a result of their lower proficiency from missing months of school. 
Here's how the pandemic is affecting education systems:
1. Lack of classes has led to learning loss
From preschool to apprenticeship students, this learning loss could affect a whole generation, and increase the "skills gap" between high and low-income students by as much as 30%, as a result of increased inequalities of access to education. 
2. Girls and displaced children are the most affected
24 million students, from pre-school to higher education, could drop out due to the economic impact of the pandemic. Displaced children and school-age girls, who often take on additional domestic chores and work responsibility, are most at risk of permanently dropping out.
3. School closures affect low-income regions most
While 80% of students in high-income countries continued learning remotely through school closures, only 14% of students in low-income countries did (being effectively out of school with no remote teaching). Low-income countries are also experiencing a growing "financing gap", as they are unable to fund the costs of their education systems through their economic reserves.
4. Online learning didn't save the day
Remote learning and online learning are often mixed up – but online learning is only one small way to learn remotely: most low-income countries have chosen other remote learning media, since 700M learners do not have access to the internet.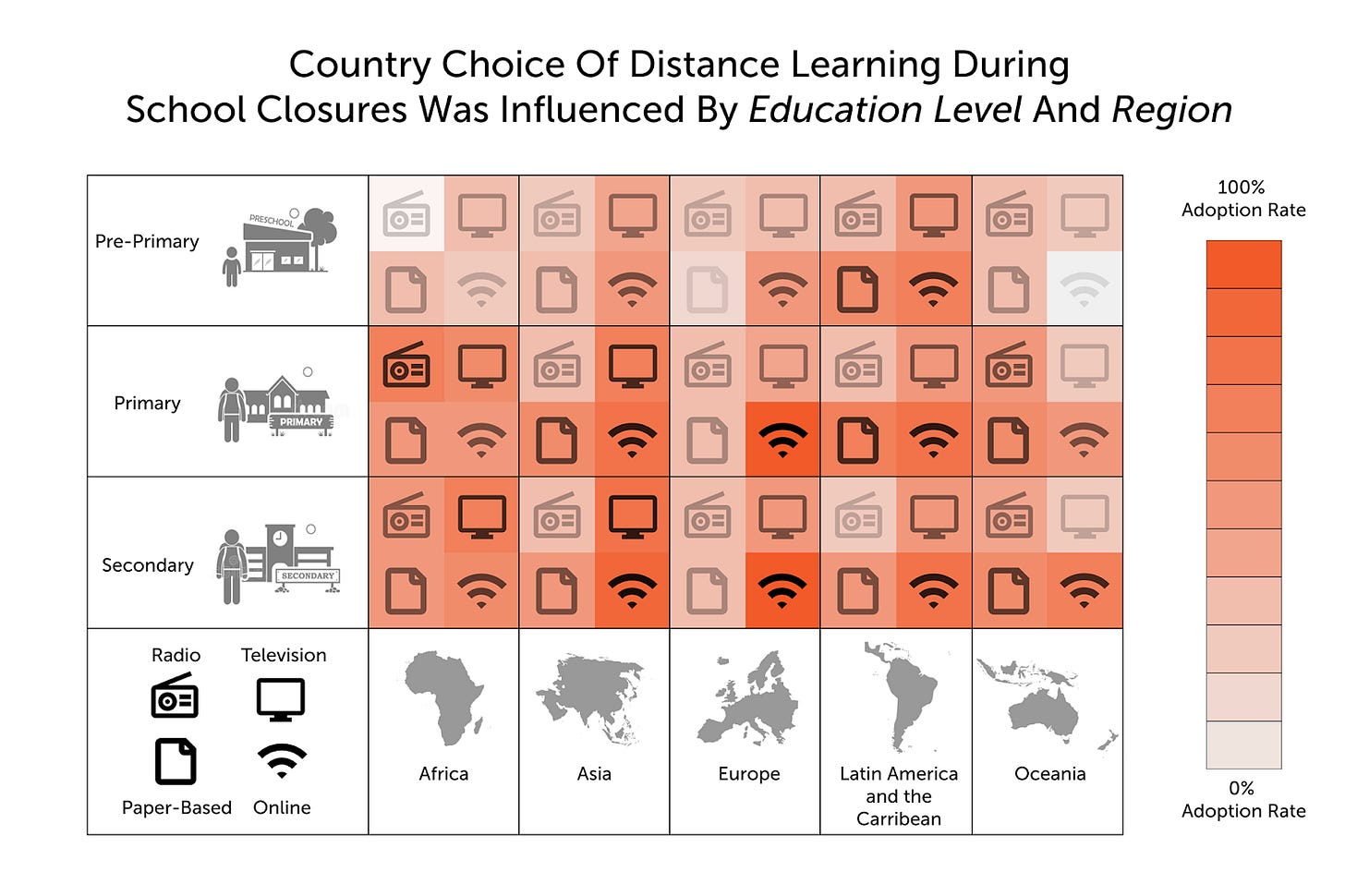 Visualization by

Jasen Lo

for Transcend Network
Radio-based learning has been most used in Africa, while paper has been mostly used in LATAM. Secondary education has used online learning most, especially in Europe and Asia.
Overall, there's still great uncertainty for the second half of 2020, as more than a hundred countries have yet to announce a date for schools to reopen. 
But now is also the time to take action, as governments, schools and private companies are more open to new approaches than ever before. 
What we can do about it
Let's bring our focus back to the SDGs, as they'll serve us as a valuable guide in these times of uncertainty. 
The first direction for education to explore is simple, but proving to be very difficult: investing whatever is needed to open up schools again in September.
This can prevent at-risk students from dropping out of the education system, but schools will need more resources to lower student-teacher ratios, train teachers on remote learning, and develop student support programs. 
Another direction is to combat learning loss through small group tutoring, providing after-class tutoring for all students in groups to help them catch up. This is a relatively affordable solution, costing around 1% of school budgets in the UK or in Spain, where this solution has been proposed.
Thirdly, there's a great opportunity for better remote learning, both online and offline. Incorporating the "right to connectivity" as a part of the right to education could bring more investment into infrastructure that supports online learning. 
While only half of students worldwide can access a computer, 97% of them have mobile network access.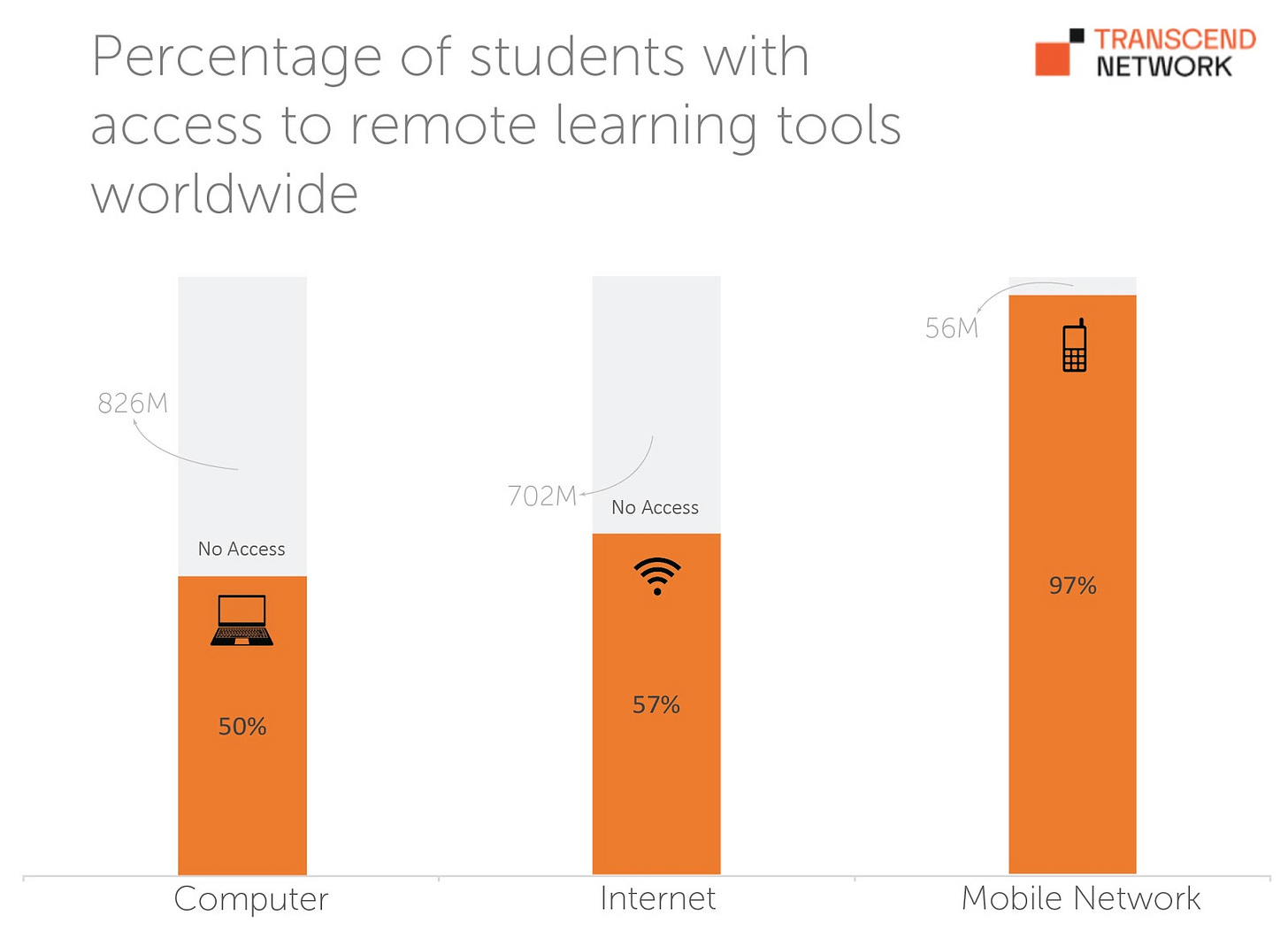 Visualization by Nikita Kotsehub for Transcend Network
How startups can help achieve the SDGs
Startups and organizations can play a crucial role in bringing quality education to every learner in the world.
📻Building better remote learning tools (mostly offline!): remote learning has reached less than 50% of students in middle or low-income countries (compared with 85% in high-income countries). New solutions that are remote but offline can reach 97% of students with access to a mobile network. 
💻Training for remote learning: teachers, administrators, and students will require significant training on remote learning in the event that schools close again.
👩‍🏭Creating direct employment pathways (alternatives to college): in times of crisis, demand for higher education usually increases, but this time around that won't be the case, so there's a unique opportunity for players that offer direct employment opportunities in the coming year. 
🚸Child care and remote schooling: with remote work becoming commonplace, childcare options are in high demand, and busy working parents need better solutions for their needs. 
Tomorrow.
Organizations like the UN excel at telling us what's wrong in the world today. 
But they usually fail to inspire organizations to make it better, and set a direction for future work. The SDGs can give us precisely in these times of uncertainty if we use them right, and we can't afford to lose sight of them. 
If you are a startup, a government official or teacher who wants to learn about more ways to work together with other education players, shoot us an email. We at Transcend Network want to talk!
What did you think? Please leave a comment or reply to this email with you thoughts!

💼The university experience is changing quickly: career services and opportunities are at the core of that transformation, share Maria Flynn, CEO of Jobs For the Future (JFF)
👣MOOCs went through a long journey from their initial hype to finding a marketable service –  ClassCentral takes us through the winding path (and pricing tiers) to 100M in revenue as a MOOC company.
📚Hyperlink is all about building great learning courses, and the team shares their lessons learned from their metacourse.
🌙Notation Capital is launching Moonlight to support earlier-stage founders based in NYC - access their team's insights and experience, all for free!
🎒More alternatives to traditional university: Rivet School launches a new, affordable Associate Degree program for recent high school grads with 10 scholarships available.
👔Corporate training is being rebuilt from scratch, as we reflected on our latest newsletter – here's an insightful read on business schools' transformation.

---
Many thanks to Jasen Lo, Nikita Kotsehub, Nick deWilde, Joel Christiansen, Taylor Royle, Eric Friedman, Josh and the Compound Writing community for the support, feedback and ideas for this newsletter!
Thanks for reading another week! How can we make the newsletter more relevant for you?